Study in Poland
Welcome to Poland! We would like to invite you to take a journey through our beautiful country and visit our university recognized by national and international students.
What are the advantages of studying in Poland?
Studying in Poland is very popular and relatively affordable compared to other European countries. Poland is considered to be one of the cheapest European cities for international students. It's a perfect choice to pursue an excellent higher education. The Polish educational system is one of the best in terms of quality in Europe due to its high level, price, accessibility and possible specializations. It follows the latest academic trends. Lots of programmes are offered in English. Warsaw has won the prestigious title of the most attractive tourist destination in Europe in the European Best Destinations 2023 contest. The Polish academic system is very well developed. Poland has been a full member of the Bologna Process/European Higher Education Area since 1999 which ensures comparability in the standards and quality of higher education qualifications in the European countries. Here you can earn a diploma that will open up doors to the best companies in Europe. Poland has a favorable geographic location and excellent transport access to many countries.
What is the Polish tradition of academic education?
Polish academic education dates back to 1364 when the first university in Poland was founded in Cracow. Today it is known as Jagiellonian University and it is one of the world's oldest universities. The tradition of academic education is highly developed in Polish society. Poland is actively modernizing its educational system and strives to reach the highest level of quality equal to other recognized European universities. There are more and more foreign students studying in Poland.
Why study at the UEHS in Warsaw?
The University of Economics and Human Sciences in Warsaw is one of the best places to study in Poland which developed education for international students at the highest level. The UEHS runs most of its programmes in English including MBA studies for international students.
Students from all over the world are coming to Warsaw.
Who are they?
Studying always brings about changes. Sometimes we change cities, and sometimes countries. It's always a change of environment, a search for ourselves anew. It's full of stress, but also fun 🙂
Our students come from Poland and all over the world!
Our students make us proud because they can find their place in such a rapidly changing world!
The story of each of them is a unique experience and a lesson not only for themselves but for everyone!
We invite you to read their stories about how not to lose yourself and still grow as a student in a new and unknown world!
Check

What is the student lifestyle like in Warsaw?   
An intensive social life is an inevitable part of most students' life. There are many museums, art galleries, cinemas, restaurants, clubs and other fascinating places worth visiting and many exciting things you can do in your free time in Warsaw. It is a vibrant, extraordinary and safe city.
What is the cost of living in Poland?
The cost of living in Poland is much lower than in other European countries. Polish currency is Złoty (PLN), 1 PLN is about 0,25€. The average cost of a shopping basket in Poland is around 80 – 90€. In most places, you can pay by card. The average monthly gross salary in Poland is around 1690€.
Expenses (average value):
Milk chocolate: 1€
Bread: 1€
Eggs 10 pcs: 2€
Cheese 1kg: 6€
Sugar 1kg: 1,50€
1L of petrol: 1.5€
Lunch in a restaurant: 8€
Cinema ticket: 6€
Single bus ticket in Warsaw (student): 0,5€
Student monthly ticket: 14€
Rent (dormitory/room): 150-250€/month
Rent (a small apartment in the centre of Warsaw):800-1000€/month
The University of Economics and Human Sciences in Warsaw – facts and figures:
5th
among all non-public academic universities in Poland (Perspektywy ranking 2023)
30000 m2
modern campus in the centre of Warsaw
3rd
according to the criteria of internationalization in Perspektywy ranking 2023 (the most prestigious higher education institutions' ranking in Poland)
21 500
more than 21 500 graduates
95%
of the UEHS graduates find a job within a month
Facts about Poland:
Capital city: Warsaw (population 1.7 million)
Currency: 1 zloty (PLN) = 100 groszy
Calling code: + 48
Climate: moderate continental with relatively cold winters
(December – March) and hot summers (June – August)
Location: Central Europe. It borders Germany, the Czech Republic, Slovakia, Ukraine, Belarus, Lithuania and Russia (the Kaliningrad exclave)
Population:38 million
Official language: Polish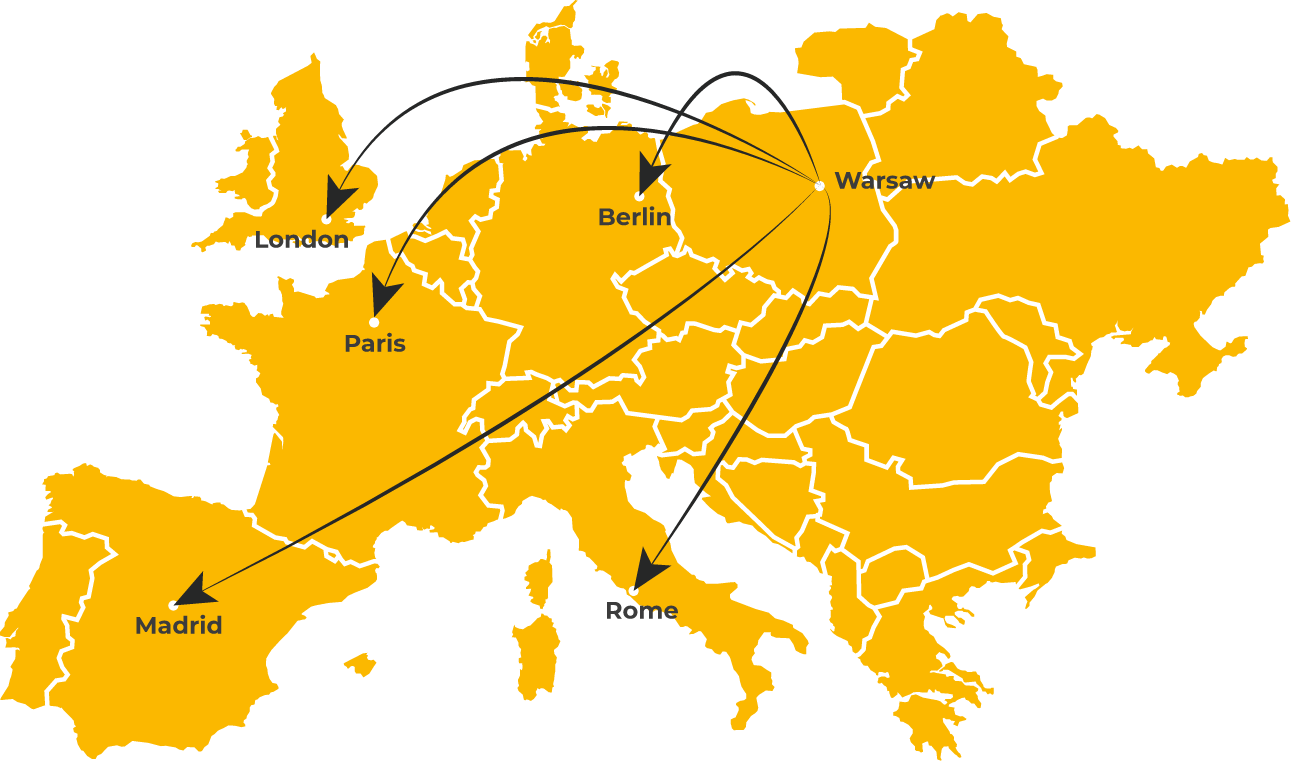 Distance from other cities to Warsaw
Paris 1700 km (2h 20min flight time)
London 1700 km (2h 25min flight time)
Berlin 700 km (1h 30 min flight time)
Madrid 2900 km (3h 35min flight time)
Rome 1800 km (2h 15min flight time)